Jeremy and I hit up a free festival today at the Indianapolis Museum of Art in their new nature preserve. We got there toward to the end of the festival when it had started to cool off a bit and the sun was setting so it was easier to find some shade. A free concert was the main attraction...a band from Minnesota called Cloud Cult. I'm not quite sure how to describe them, but the vibe really set the outdoor, art/nature setting well. They had some folk feel, but also some synth feel. They had strings, guitars, and horns playing and it made this beautiful earthy sound. I really enjoyed it in the outdoor setting with the trees and the wind, and also the children playing all around.
This was one of the songs they played, called Love You All
I told Jeremy this would be good music to play for our child. It's very soothing, even keel, and peaceful. Jeremy pointed out that it has a heartbeat-like rhythm to it. I think I'll be getting a few CDs of these guys.
The crowd was largely parents in their 30s and 40s. All outdoorsy types, all with a bit of tree hugger in them. *grin* It was fun to sit on the fringes of the group and watch them all. The parents chatting and enjoying the music, the children running about playing on the grounds. No one was concerned about what could go wrong, no one was attached to a tablet. It was just. simple. fun.
And to make it all perfect, off to our left were the remains of some sort of interactive art exhibit...some string and bags of chalk. The children were making up their own game with the string and then launched into a full on chalk fight. A young adult we dubbed Hippie Waldo played with them. It was so much fun to watch!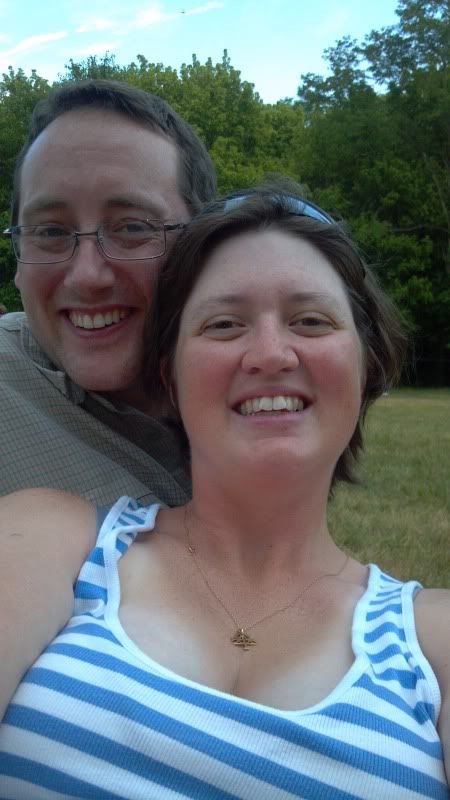 ( more summer celebration back here )
ps, I hate the new media features. Anyone want to tell me how to *actually* embed youtube videos? How about managing the new scrapbook? They did not make this "upgrade" very friendly!
Figured it out. Still hate the new media, but I figured it out.