Profile

Speak, Memory
Tattered Pages & Tired Eyes
Free Account
Created on 2011-05-28 02:41:39 (#905690), last updated 2017-09-13 (6 days ago)
5,002 comments received, 13 comments posted
2,370 Journal Entries, 159 Tags, 0 Memories, 33 Icons

About

Mini Bio
"Never give up until you have released your unused capacity to set hundreds on fire."
~William H. Danforth, American Youth Foundation
"A thousand-mile journey starts with one step."
~Lao-tse, Tao Te Ching
"From caring, comes courage."
~Lao-tse, Tao Te Ching speaking of the "first treasure,"
Tz'u
which means "caring" or "compassion" and is represented by the Chinese character for "heart"
A few theme songs:
Chasing Cars, Snow Patrol
Let Your Troubles Roll By, Carbon Leaf
Where I belong, Spirit Soundtract
Learning to Fly, Tom Petty
On the Turning Away, Pink Floyd
My journal is a small, intimate place. Mostly, I blog about my horses and my work. Sometimes, I blog about the rest of my life. You're welcome to watch, but I only friend those with which I feel a real connection and feel I can trust. You won't find many public entries here, but perhaps enough to hang around. If you're truly interested in being added to my friends list, comment and maybe we'll get to know each other.
I love my job. How many people can say that? But I really, really love my job. I spend every day at the barn teaching riding lessons, working horses, going to horse shows or trail rides, foxhunting, or attending clinics.
My love affair with horses isn't exactly a secret. It's been going on for 25 years now and through several real relationships. I've had two boys break up with me because they were jealous of my horses. I dumped one because my horse hated him -- and rightly so. That said, I have two horses: Dash, a 31 yr. old TB/QH cross and Sam, an 13 yr. old Appy. Sam and Dash are both livin' it up on my parent's farm, about an hour away from me. Dash is a happy, healthy old guy who I expect to live until he's 50! Sam is completely blind from uveitis, but that doesn't stop us from enjoying our time together.
My life-goal continues to be starting a Community Supported Agriculture (CSA) project. The idea is a farmer has a bit of land and some livestock. She finds people in the nearby city who agree to buy shares of the livestock/milk/eggs/produce that she is raising. This creates a community bond and brings an income for the farmer. It's basically organic farming. I plan to combine this with my horse training and boarding facility, and it will be called "Naturally Gifted Farms."
Sam and Dash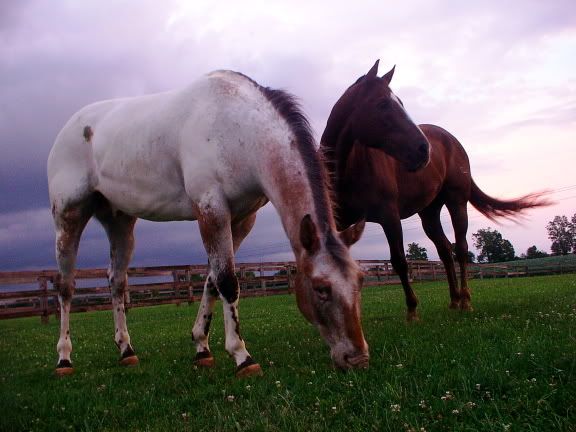 Guidance in creating this livejournal was provided by
hollowhillsfarm

Connect
cougar town
,
cs lewis
,
etc...
,
farming
,
flogging molly
,
gabriel garcia marquez
,
hemingway
,
hiking
,
kayaking
,
modern family
,
over the rhine
,
parenthood
,
poetry
, robert frost...and others, robert wrigley,
snow patrol
,
the middle
,
tolkien

People
[View Entries]

Communities
[View entries]

Feeds
[View Entries]

Subscriptions (0)

Linking
To link to this user, copy this code:
On Dreamwidth:
Elsewhere: