spirithorse21
I don't even know where to start. April 5 thru 12 was such an amazing time, a real bucket list kind of week. Perhaps I should start with the highlight. *grin*
IHSA Zone 7 Championships were at West Texas A&M in Canyon, TX. Region 1 was well represented and the entire region had a great show. Purdue will go on to Nationals with individuals as well as one of the 16 teams competing for team titles. They also have the Cacchione Cup rider for our region (he used to be our rider).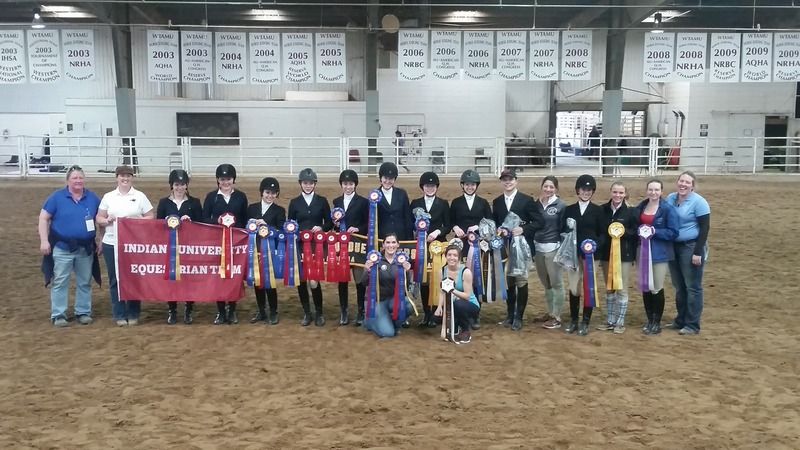 For our part, IUET had an exceptional show. Chloe took Reserve Champion in her Novice Rider Over Fences class, which will send her on to Nationals for that division, and Emily won Champion in the Intermediate Rider Equitation on the FLat, which will send *her* on to Nationals. Let me tell you, both girls has bee-u-ti-ful rounds. Chloe had one minor bobble to the swedish oxer on the center serpentine bend, getting a deep chip into the fence, but then sat it well to make it look acceptable. She had a wonderful ride on a little black horse, and even got a perfect, steady 6 in the line where everyone else was getting a 7 (it was supposed to be a 6, so good on her!). Emily had the flat round of a life time. It was poetry! The class started with 10 riders and after the initial SOP, the judges singled out four riders for additional testing. The judges called for no stirrups, and Emily just beamed--she is a rockstar no-stirrup rider. That round of testing eliminated two more riders, but it was still down to Emily and one other rider. Still without stirrups, the judge called for a lengthening of stride in the posting trot, which Emily nailed. They never asked the riders to resume a regular working trot, and Emily never faltered. She posted like she had stirrups, she never lost rhythm, she never bobbled. Then they asked for canter and it was a near perfect transition. I think at that point the only thing the judges cared about was getting the correct lead in the transition, because they only cantered half a lap before being asked to come into line up. With the riders in line up I headed back to the other side of the ring and the other Region 1 coaches were all like, "Well, you should have that one in the bag. She nailed it!" She sure did! So both my girls are now on to Nationals at the Kentucky Horse Park.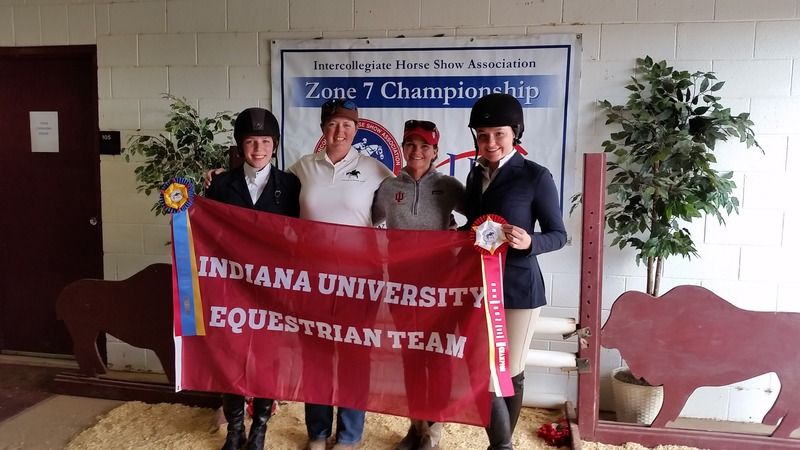 This entire adventure would not have been near as wonderful, fun, or probably even possible without the help, support, and friendship of

windy_withers
. Better yet, not only did I appreciate her presence, but my girls embraced her with open arms as if she had been with the team all along. They were friendly, gracious, kind, and loved having her there. It was brilliant.
That, however, was a mere 12 hours of the entire adventure. As you will recall, the trip to Texas began on Tuesday, April 5 in the evening. Jen met me at my barn, we loaded my stuff and Doc, and headed to Terre Haute for the night to stay with my parents and drop off Samuel and Joon. At about 5:30am the next morning we were on the road with all the vigor and excitement of two girls going to their first horse show.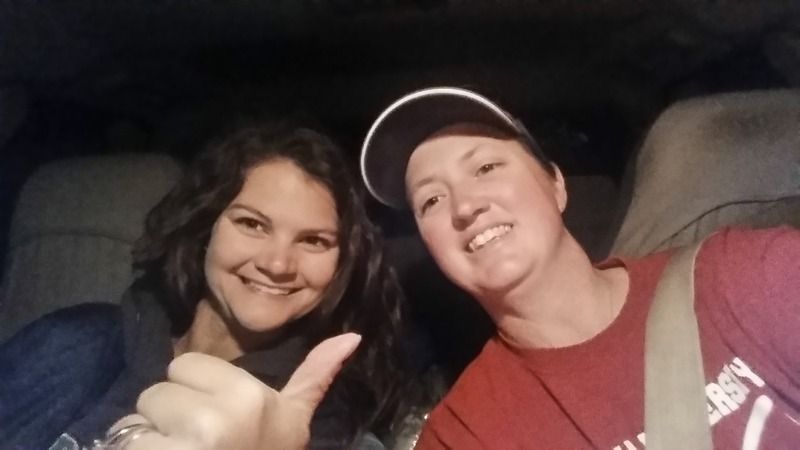 This lasted all of about 45 minutes when our first mishap occurred, and our nerves were tested for the first time. A trailer tire blew in spectacular fashion, taking the fender with it and the flapping relentlessly against the trailer before we could switch lanes an pull over into the shoulder. It was still dark outside too. When traffic quieted a bit we checked on the damage. It was a driver side, rear trailer tire. The fender was wrapped around the other tire and there were black marks all over the side of the trailer. I wasn't sure at first if the other tire was going to be ok, but once we got the fender unwrapped from it, the tire appeared to be fine. Jen has US Rider, so we called them and smack on the one hour they quoted us, a guy named Roy rolled up in his flatbed tow truck. Our savior in bright safety yellow stripes! He changed the tire in a jiffy (Jen can add more details there is she wishes), we tipped him with some cash and a strawberry cheesecake muffin--I'm quite certain he considered the muffin to be the better tip!--and then went on into Effingham to get a new spare. Two hours later, we were back on the road.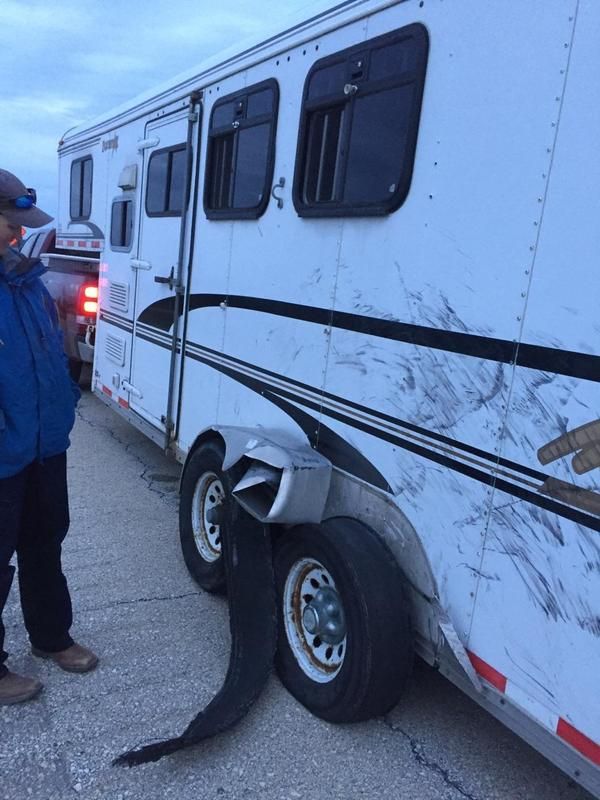 We pulled into Flying R Ranch in West PLains, MO quite a bit later than we planned, but we were game for a trail ride before dinner. We chose the Jesse James trail and headed out. It was supposed to be about 3 miles and take no more than 2 hours to ride. It turned out to be about 6 and I believe we were out for 3 hours. It was an incredibly fun ride, but more than we had planned on for the horses after such a long trailer ride. Very technical, with squeeze ledges, wide and deep water crossings, lots of switchbacks, and some ledges to climb. The horses were hot and a little sweaty by the time we got back, but everyone was no worse for wear. The horses had cozy stalls and blankets to sleep in and we got a delicious hot meal at the mess hall. I cannot recommend this place highly enough. If you're looking for a trail riding resort in the Midwest, you can't go wrong at Flying R Ranch.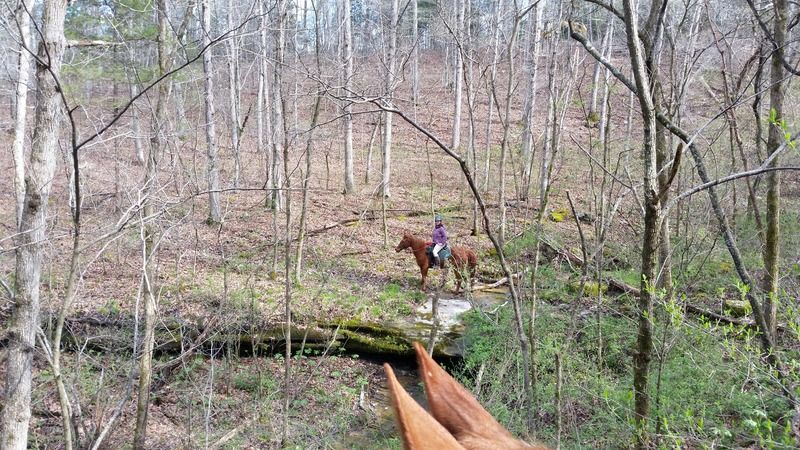 Our trip to Oklahoma was uneventful, but long. We pulled in, again, later than expected, but with plenty of time for a ride. Sheppard's Point was a much easier ride. The land was much more level, the footing softer. The trails were also considerably less extensive. Within 30 minutes we had ridden all of the main park trails. We then crossed the street and considered breaking the rules...the wildlife preserve section has trails, but was supposedly closed at the time for turkey hunting. I persuaded Jen to give it a try, agreeing to turn around the first time we heard gunfire. With that we set off to find our way through the preserve. It started out pretty well, but then got murky, both figuratively and literally. The ground was sinking beneath us and the way was unclear. After a bit we turned around to head back. Once on good footing, and headed home, we spotted the trail markers we had missed and decided to try that route out after all. We found our way, but ultimately decided that "two trees, and a rock" were not worthy sites to see (seriously, that's what the trail map said we could see as a destination on that trail!), so we turned around and spared our horses. Instead they got to have about an hour of grazing before night settled in.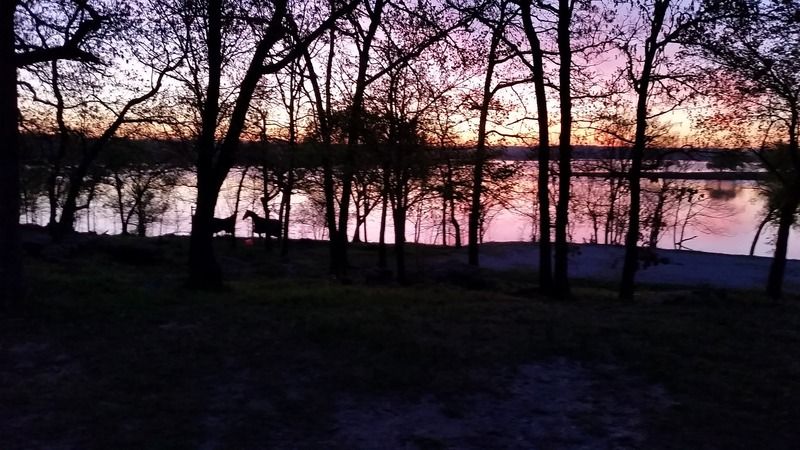 I admit that I found this site disappointing, BUT it was peaceful and offered the horses a nice rest. They got to graze, play in the lake, and rest of soft ground. The sunrise over the lake was AMAZING! I believe, for me, that made the stop worth it.

The next morning was the big day. We were going to Texas! We figured we would arrive with enough time to go ride the Palo Duro Canyon that day and then get to the ranch the horses were staying at as night fell. I think this day of travel still took us longer than we had planned, but it went smoothly and we did indeed arrive at the canyon with enough time to ride. We had to stand around for about an hour to get checked in with the horses and all that jazz, but then we were set. To haul down a canyon. I don't know how many of you have ever done such a thing, but it is no easy task. Jen was an ACE driver. She took to the task with gusto (and probably a lot of anxiety), and we creeped our way down the switchbacks, burning brakes and all (yes, we could literally smell the breaks burning. That's how steep the grade was. We did finally make it to the bottom of the canyon, and let me tell you, it did not disappoint. It was a spectacular site to behold. We opted to ride the Lighthouse Trail, the iconic trail of the park. It was, without a doubt, the most amazing thing I have ever done on a horse. The trail wasn't particularly challenging, it was just so damn beautiful. Seriously, like walking in the garden of the gods. Our views were out of this world, and the ride was so exhilarating just for the scenery. We couldn't actually make it up to Lighthouse Rock--that would have required mountain goats instead of horses! But we did end with a nice view of it from a dried out river bed, and then we got to have a fabulous 12-minute mile gallop down that riverbed before joining back up with the trail. It was a ride to remember for sure. Jen has a Go Pro of that one, which I'm sure she'll be sharing once it is edited (mostly for our sailor mouths!).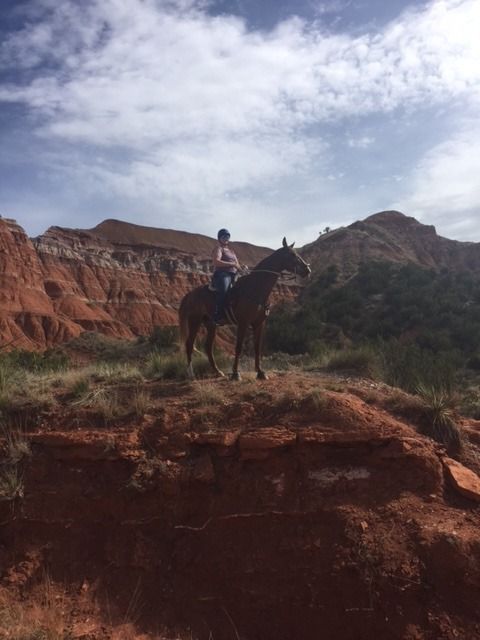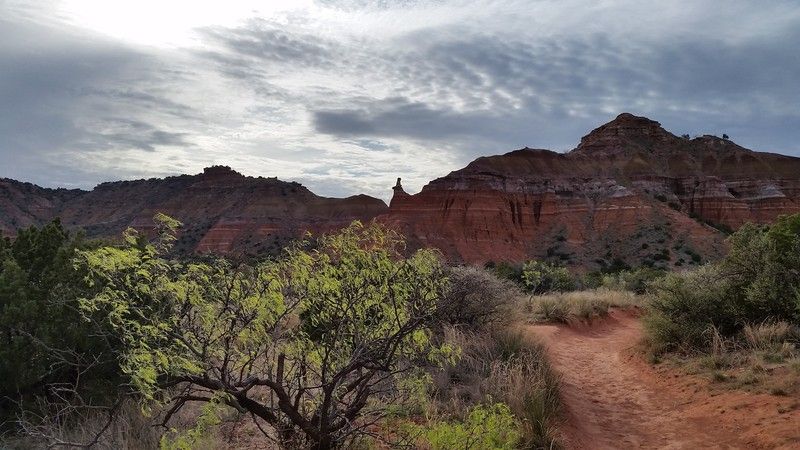 After the horse show on Saturday, we had planned on going back into the canyon to camp that night and then have a sunrise ride before beginning the long journey home. However, we were both so tired, the drive in and out of the canyon was so difficult, and the heat on Sunday all figured into a decision to leave a sunrise ride in the canyon for another trip. It is better to have seen and go home thankful, than to be greedy and stay in the canyon dead. Instead, we went to the post-show zone party and then went out with my girls and their parents for a little toast and tourist action. It was a fun night and we came back to sleep in our trailer and then had a fairly leisurely drive back to Oklahoma. It was on the return trip to Sheppard's Point that I came to appreciate the location. What we needed that day was peace and rest. Sheppard's Point was exactly that. The gate guy had been watching for our return and he asked us about the horse show. Our horses got four hours to graze and play in the lake (which they did happily). The grounds keeper came over and chatted with me for a good long while and his grandchildren petted the horses and gave them slivers of grass to eat in between the mouthfuls they were already gorging themselves on. I set up the highline on top of the hill right next to the trailer that night and it was just a great evening. Doc did give us a brief scare with a mild upset tummy, but with a bit of banamine and a little patience he came right out of it. I believe it was a combo of the super hot 6 hour ride, coming off the trailer excited, gobbling a few mouthfuls of grass and then guzzling lake water, and then a little bit of rolling in the grass (my boy is not the type to roll all the way over, so I wasn't too concerned about a twisted gut). All those little pieces just added up to a slightly colicy big red horse, but 20 minutes into the banamine he was happy again.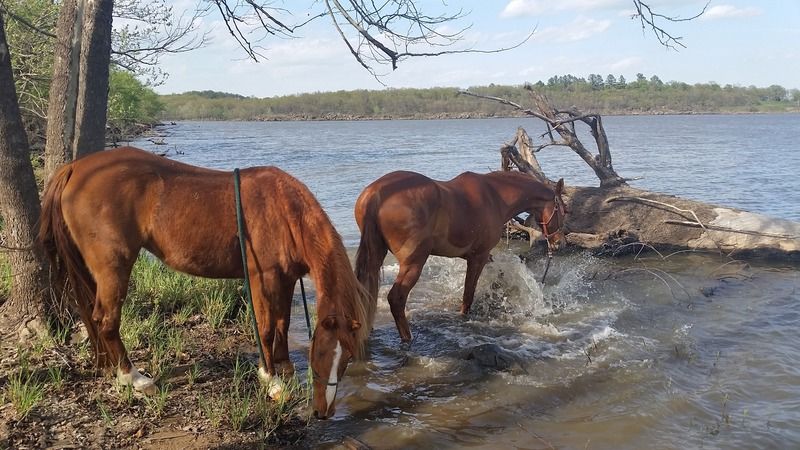 It did storm that night, just as predicted. The worst of it did go around us, but it woke us both up at one point and we fretted a bit over the horses. They had no shelter, they were just tied to a highline. However, we only had one super close lightning strike and after that everything else was far away. the rain continued until 3am, maybe a bit later, but the lightning was past. We woke up in the morning to clear skies, steam rising off the lake, and another beautiful sunrise. The ponies were power washed and the day looked promising.

We packed up pretty quickly and hit the road for Missouri. We changed our plans slightly, opting to drive to a state park about 60 miles south-southwest of St. Louis rather than going to Slab Town Trails in PLato. We did this because it would make the last day of driving shorter, which sounded marvelous to us both at that point. Yes, Slab Town was supposed to be exceptional, but we were more concerned with arriving home safe and sound with happy horses, not spent ones. Slab Town would have been more like doing Flying R again, and while that would have been fun, it may have proven too much for everyone after it was all said and done. So, off to St. Joe State Park we went. Then, just over the Missouri line, in Joplin, we blew another tire. This time is was broad daylight and we were at the base of an exit leading into a rest stop. We were able to easily roll in and change this tire with little fuss. A kind truck driver named Charles even lent us a hand (after Jen broke loose the first three nuts, she is quick to point out!) and taught us a handy trick for getting the lugs back on quickly. No, more than the changing of the tire, we were just plain pissed and stumped about having a second blown tire. We stopped in at a Discount Tire in the next town to replace our spare (again), and Jen opted for another new tire as well. In total, she put three new tires on the trailer, and kept two old ones. What a fiasco! I know she spent a good deal of time today arguing with the tire company because her tires weren't even two years old!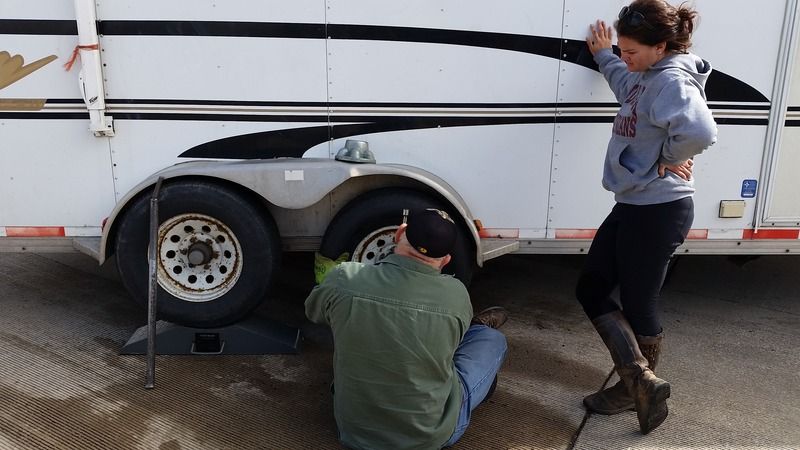 After getting THAT tire replaced we went on to St. Joe State Park. Our final approach was on a state highway. We were expecting something divided and with four lanes. It turned out to be a glorified country road winding through BFE with a pace of a snail in mind and no shoulder. We were unamused, even if the drive *was* pretty. After much twisting and turning (and a side stop for the world's best pizza--Imo's) we pulled in the park. It was totally empty except for us, and a quite stop. Jen was ready to call it quits for the night as the sun was already beginning to set, but I pushed for one last ride. The trails here were supposed to be short and easy, so why not mosey about and have one last hurrah? With no more time to waste we climbed up onto our trusty red steeds and headed out into the woods. We sloshed our way through the first mile--it was more like walking down a low creek than riding on a trail thanks to recent heavy rains, but then we came out onto a pipeline with a clear path up and down before us. We picked up a couple of geods for our kids and enjoyed a leisurely stroll down the trail. Back in the woods, Jen astutely picked up the sound of a Banded Owl hooting in the distance. With all the joy you'd expect of a Naturalist Interpreter, she hooted back at the owl. They hooted to each other for several minutes and I just quietly listened in on the conversation I couldn't understand. It brought a smile to my face, knowing this was making Jen happy but also because it brought peace to my own heart. I may not be able to hoot with the owls, but I sure do enjoy listening to them.
After hooting with the owls we found a couple of good sized logs to jump, and then had a little gallop through the woods. After all of that, our hearts were happy and our souls set right. We got back to camp after an easy 5 miles and bedded the horses down right on the trailer for one last night of sleep before getting home.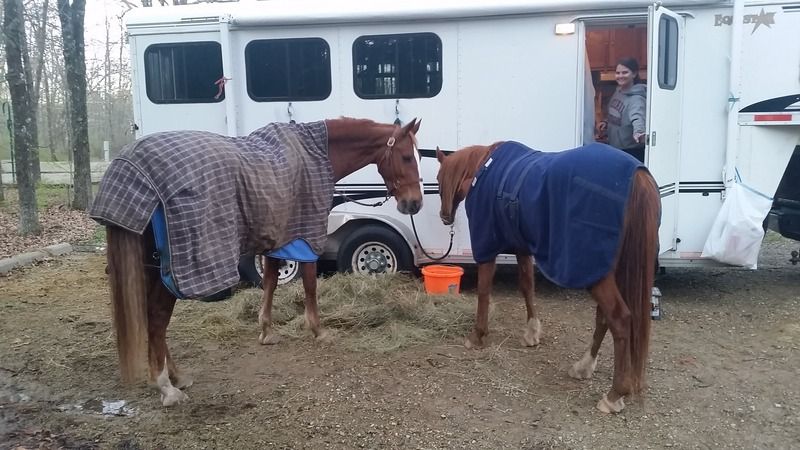 We got up after the sun had risen--probably the first time the whole trip--and packed up quickly. The drive through St. Louis was a little hairy, but not terrible, and then it was on to the home stretch. We were back at Swinging M by 2:30pm, and Jen was on her way to her house by 3. Doc was thrilled to be home, as I am sure Sugar was when she got there. All in all, we cover more than 2500 miles in 7 days. It was quite a thing. I am so thrilled that I got to share it all with such a wonderful friend, and to have the tale to tell to those who wish to hear it.