spirithorse21
This has been a productive summer at home. My gardens did very well for my first year with so many beds and plants to manage, my friends supporting my "CSA" are willing to do it again next year, and we got lots of house projects done. I hope to finish the last two in time for Samuel's birthday party next weekend!
The gardens did do really well. I didn't get tons of progress photos, but it looked a little wild and crazy. The front beds were full of herbs and flowers, along with three tomato plants, broccoli, cauliflower, and bell peppers. The broccoli and cauliflower got devoured by caterpillars, but everything else did incredibly well. I am still harvesting basil, which is LOVE. We had Sun Gold cherry tomatoes in the front bed and those were fabulous. I didn't stake any of my tomato plants this year--I was just plain lazy about it--but it hasn't hurt the tomatoes at all. It does make harvesting a bit harder because the plants spread out like crazy this way, but we are managing just fine (I'm still harvesting tomatoes at least twice a week!). I will stake them next year though.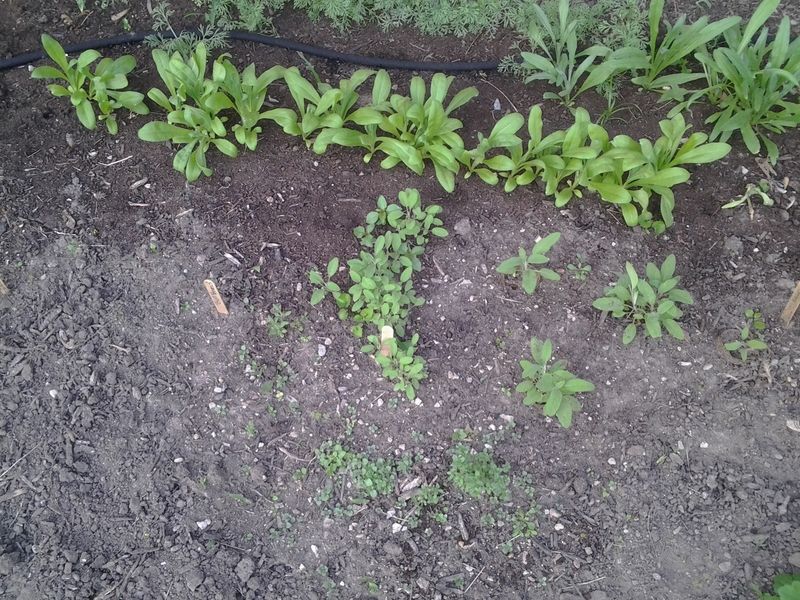 Flowers coming up in the spring.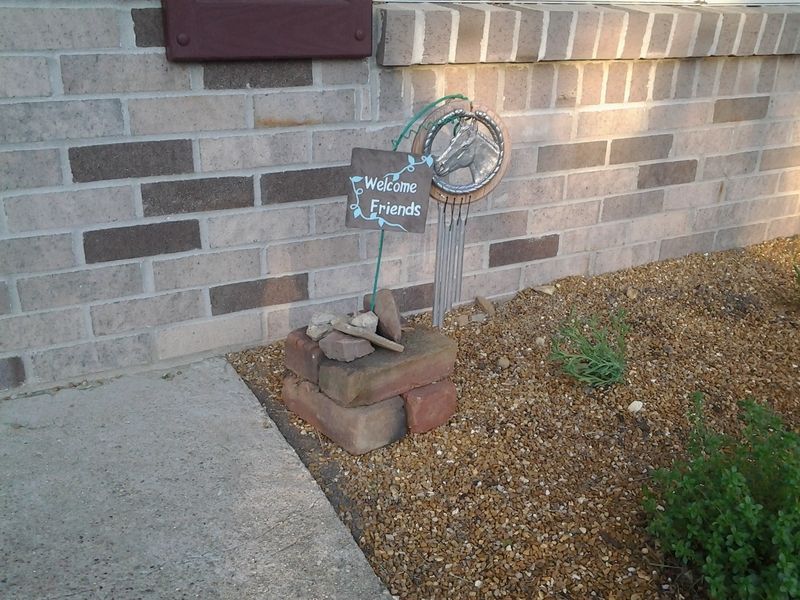 New lavender and lemon sage in the front bed. The lavender from last year didn't manage to overwinter.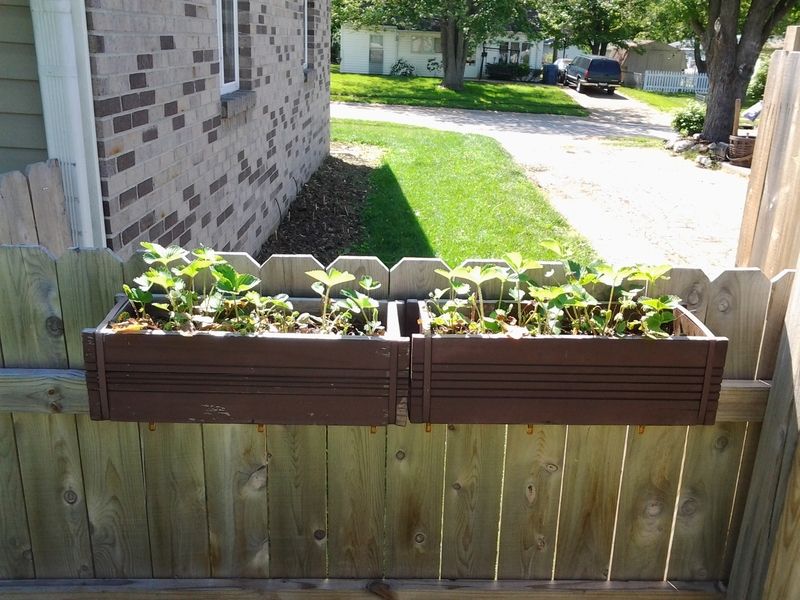 The strawberries did well for the first year transplant, but the birds got most of them. Next year I will have netting!
I screwed up on the potatoes. We got potatoes just fine, but I should have planted them deeper and mounded them. As it was, I did harvest them early and I have a second crop out now that I am hoping and praying will grow fast enough to beat the end of the growing season. I also wasn't very patient with the carrots and should have cared for them better, but I'll be better next year.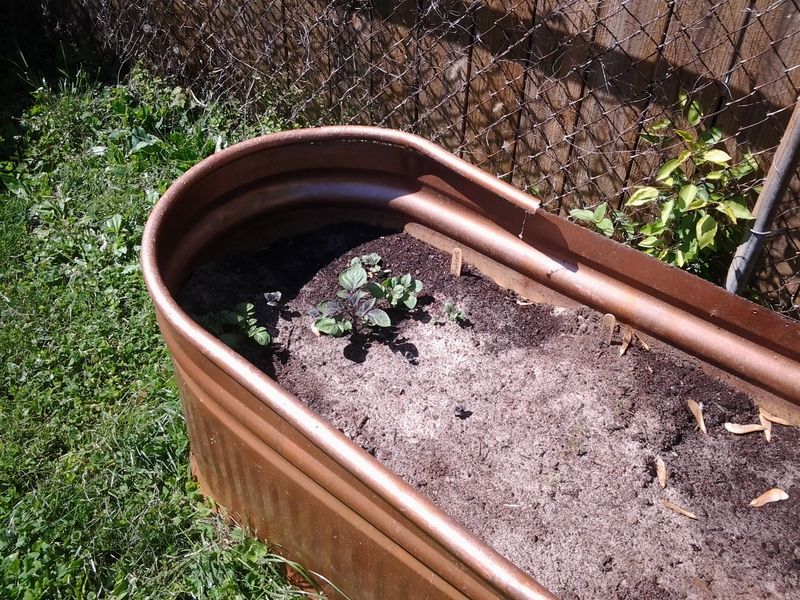 My wee little potato plants! See how they are pretty shallow in the trough? I should have dug down much farther and mounded as the plants grew.
I do plan to grow all my herbs again, the strawberries, the tomatoes, potatoes, garlic, asparagus, and peppers. I will also add a squash bed. I am not sure if I will try beans, peas, or corn again simply because I can get it so cheap and I really kind of failed with those plants. I also want to do the carrots again, but better. I am really excited to get better and better at this gardening stuff, and to get to where I can always save my own seed and maybe even cultivate varieties.
One of my homestead projects this summer was building rain barrels. My dad happened to have several 55 gallon drums, so I got barrels of my choosing I brought home four (three for rain barrels, one for a slow feeder that is waiting to be finished), and in short order put together a two-tank system. I would like to add a third barrel in the back yard, but this will take a great deal of gutter re-routing, so I'm not quite up to the task yet. However, my two-tank system looks quite sharp and works really well with my soaker hose. My tomatoes would agree! I would like to eventually paint them too--I see all kinds of awesome ideas on Pinterest--however I have to admit that a cool paint job adds nothing to the functionality and therefore has to go low on the priority list.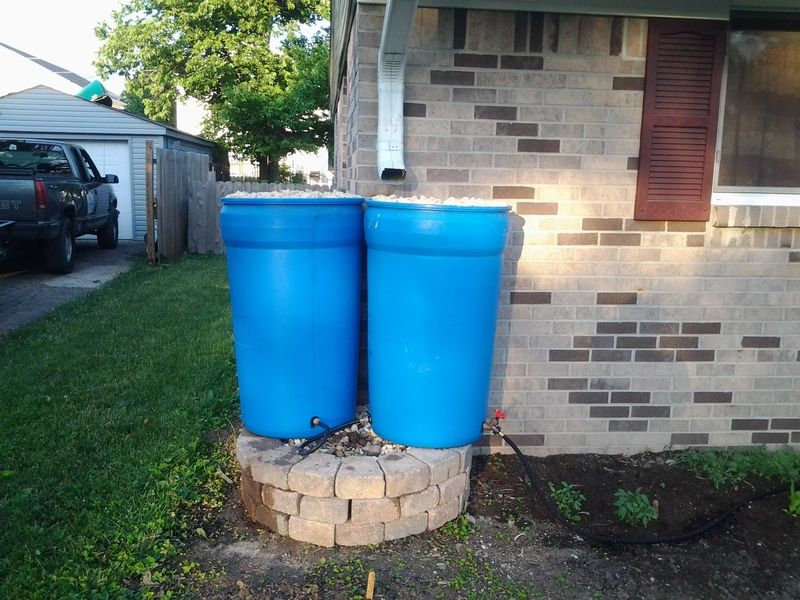 Two-tank rain barrel system. It is elevated to give my hose water pressure.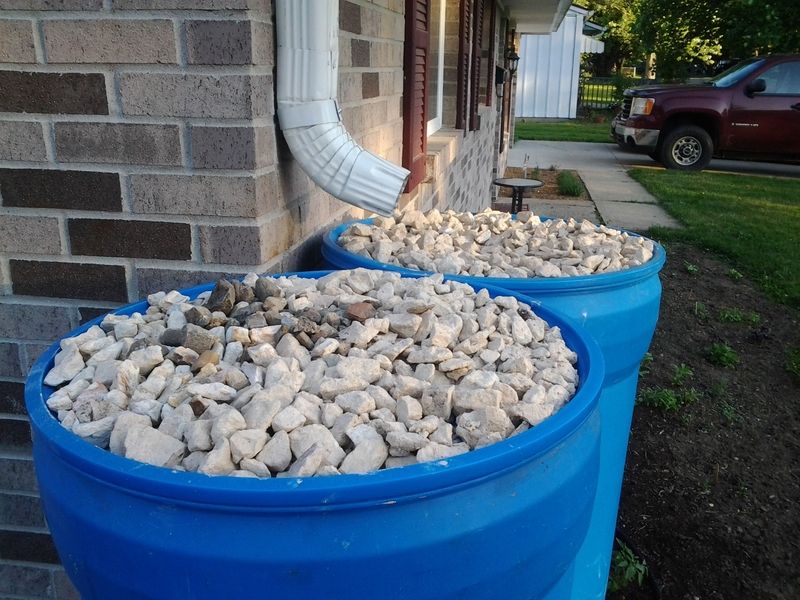 I topped them with rocks to help filter the water, keep out mosquitoes, and keep the lid on my barrel.
Inside, I painted our yellow room green. I have been saying almost from the beginning that I'd like to paint the room some shade of green, and this summer it came to be. The blinds broke in the yellow room and before I hung new blinds I decided that was as good a time as any to paint the room a new color. So, green went on the walls, and then I got brown blinds and ended up painting the trim brown too. Then I decided the closet doors to Samuel's toys should become a giant magnetic chalk board. I primed with magnetic paint and then covered that with the blue-grey color that is very soothing with the green and brown. The magnetic properties aren't great, but the chalk board part works beautifully. I couldn't be happier with the room!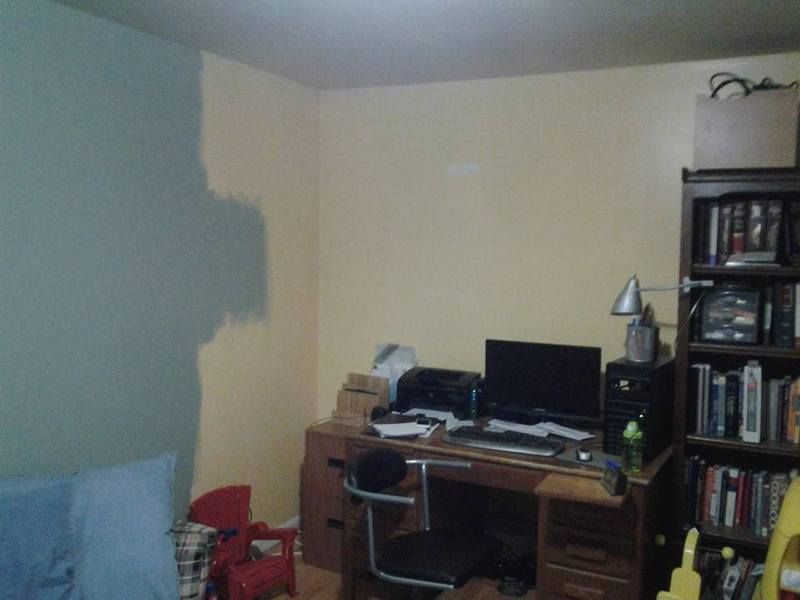 Half way between green and yellow. The green is so much prettier. Also, it contrasts nicely with the pale wood floors, whereas with the yellow, the whole room looked kind of washed out.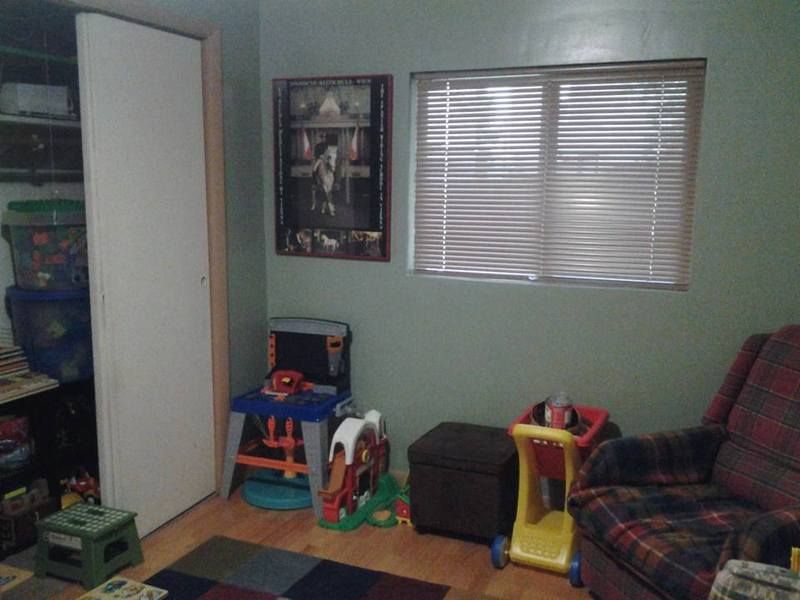 Finished walls, but closet doors still waiting for paint.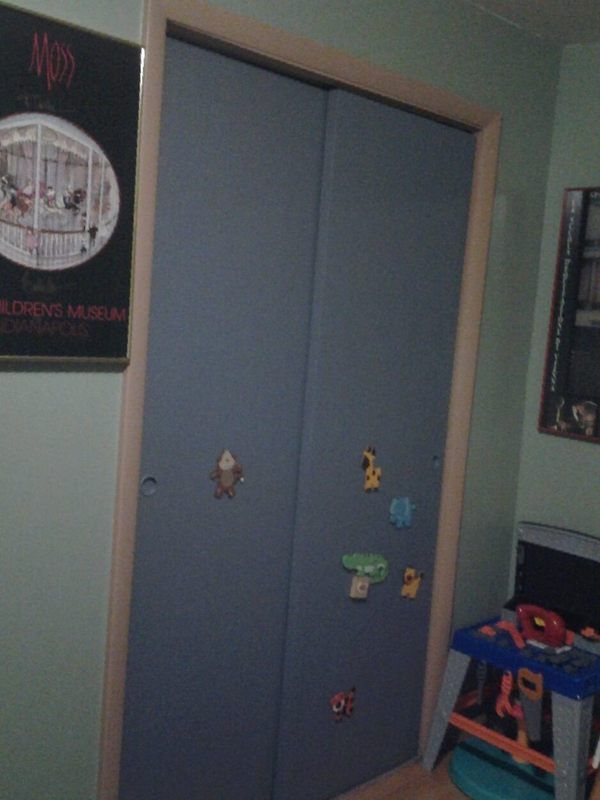 And the closet doors!
But, my biggest project was the one I've been planning on since the day we bought the house--the breakfast nook. My mom sort of teased me earlier this year, asking if I had given up on the project. I explained that it was a time and money issue, but the poke dug at me until I was goaded into action. In August I bought the wood to frame the benches. They now sit in my kitchen, waiting for the finishing trim, sanding, and staining. Oh, and cushions. I need to either find an awesome deal on cushions or make some.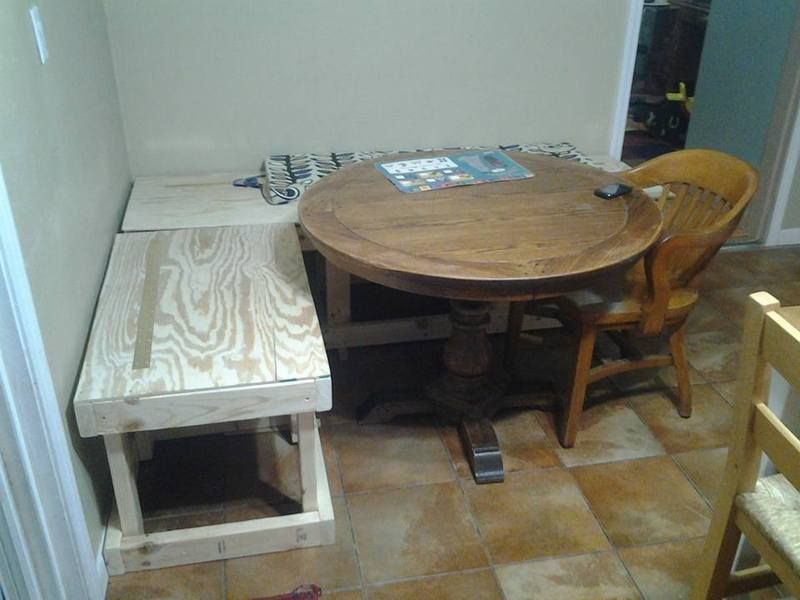 Benches with just the lid on.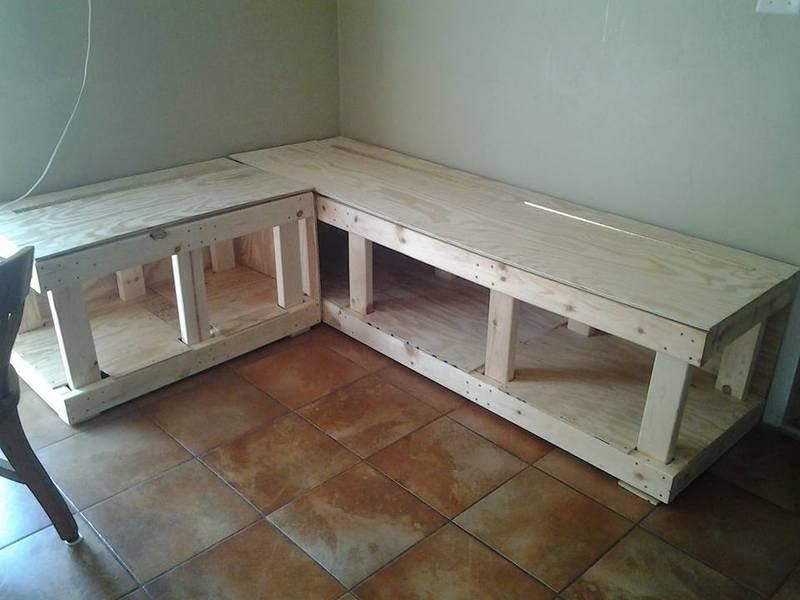 Benches with the back, caps, and floor installed. Just waiting to add trim, then sand and stain.
But that's not all. Benches, my friends, would have been cool enough, but really, anyone could do benches. No, no, I had to go one (big) step further. I decided that I could make a table to match the benches. I searched pinterest, found some plans I decided I could manage, and this Labor Day Weekend (while all the rest of you probably did awesome relaxing things), my dear husband and I did way more laboring than resting. In three days we managed to build a farmhouse-style trestle table. It is currently sitting in my garage because I need to sand and stain it, but it is GORGEOUS! I can't tell you guys how proud I am of this project, and how proud I am of both myself and Jeremy. It was truly a team project, I couldn't have done it without him. I can't wait to see this piece totally finished. I doubt I will have all the sanding and staining done in time for the party next Sunday, but at least it will be built and we can put it in place for the party!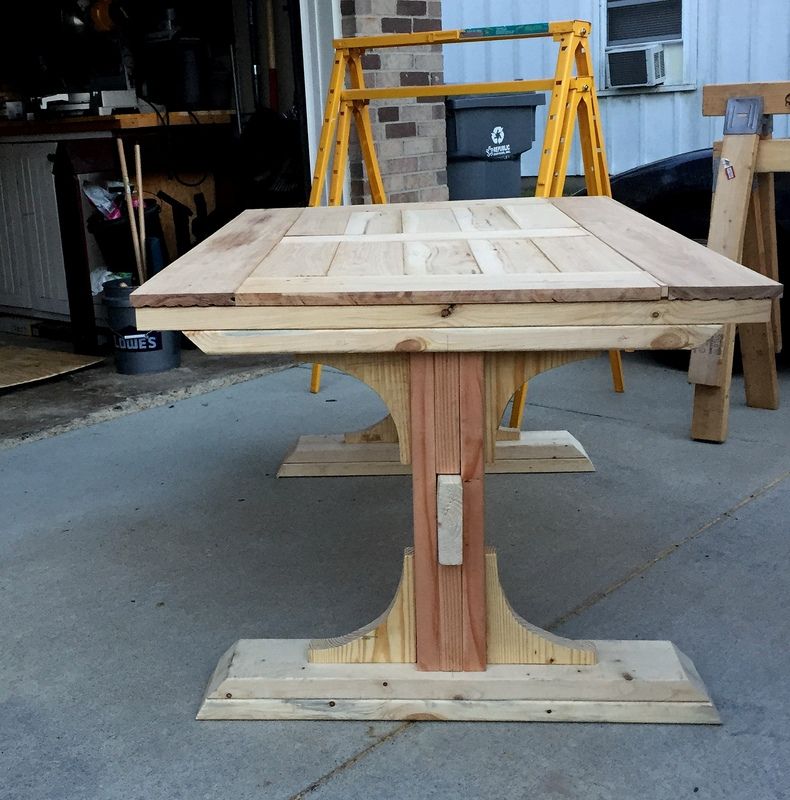 Table!!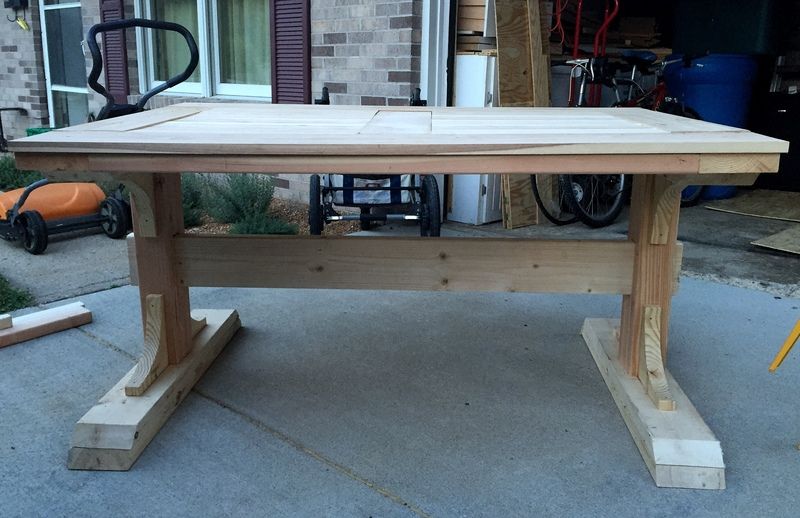 The legs are all made of 2x4s and 2x6s. We bought this wood.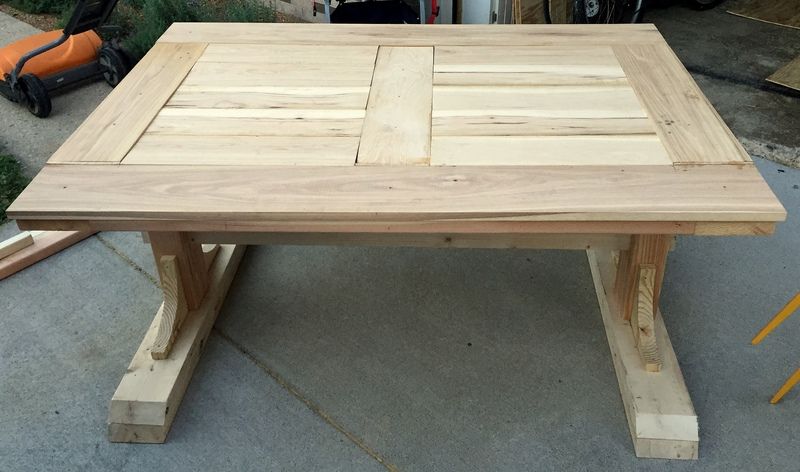 The table top, though, is all hickory hard wood flooring that my dad gave to me. It is going to be so pretty when it is sanded and stained!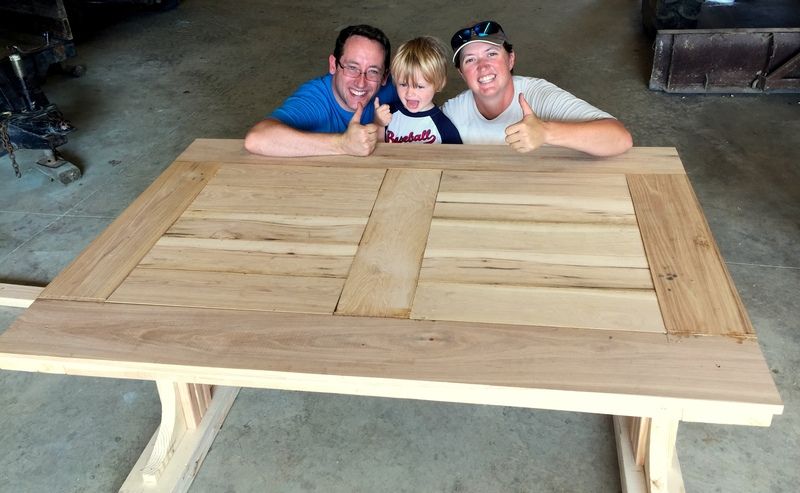 We did all the work at my parent's farm this weekend where we had the use of lots and lots of tools and the large work space. It was a three thumbs up job!
My list of home improvements is still quite long, but I am pretty excited to have checked these off. The table was quite an achievement for me, and well beyond anything else I've ever done. It will be a piece I am proud of for years to come.